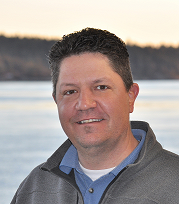 Andy Holman, Professional Land Surveyor & Owner
Andy went on to work as a financial analyst for a boutique investment firm in Greenwood Village, Colorado. Although he enjoyed his time as an analyst, Andy's love of the great outdoors drew him back to the Pacific Northwest and he began working as a real estate agent in Friday Harbor, Washington.
In 2007, Andy was offered a part-time field position by John L. Thalacker, PLS. Within a month Andy was presented with a full-time work offer from John and he has never looked back.
When Andy is not surveying, he enjoys spending time with family, fishing in the beautiful San Juan Islands, and archery.
Memberships: Land Surveyor's Association of Washington, National Society of Professional Surveyors, and the San Juan Island Chamber of Commerce.
---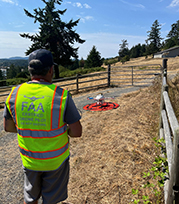 Josh Angle, Survey Technician
While in high school, Josh was in the engineering club, where he was able to study at Ohio University's Russ College of Engineering for two years before relocating to Friday Harbor, Washington in 1998. Josh then spent 20 years in the grocery industry, 15 of which were spent as a store director in the Seattle area where he led teams of up to 185 employees.
While working in grocery, Josh spent his spare time remodeling homes with his friends and working in his wood shop where he designed/crafted numerous items using his schooling to build cabinetry, chairs, and other unique items. Josh recently remodeled and sold his home in the Renton Highlands before returning to San Juan Island.
When he's not working, Josh enjoys spending time with his family and friends, working on projects, and enjoying the beauty of the San Juan Islands.
---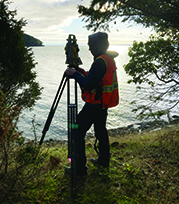 Jill Sullivan, Survey Technician
Having a passion for the outdoors and traveling, Jill graduated from Central Washington University with a Bachelor of Science in Outdoor Recreation and Tourism Management in 2012. She spent 4 summers managing a photography studio in Denali, Alaska, gaining experience capturing whitewater rafting trips and studio portraits for visitors passing through the Denali National Park area. During the off-season, she traveled from interior Alaska to the Western Slopes of Colorado, and down to central Baja California; seeking grand hikes, steep ski slopes, multi-day raft trips, warm surf, plentiful fishing and beautiful scenery.
The construction industry has never been foreign to Jill because of her father's trade so when she got the call to return home to Skagit Valley in 2016, she saw an opportunity to explore the world of surveying. Jill graduated from Bellingham Technical College with an Associates in Applied Science in Geomatics Engineering in 2018. She worked for the Burlington-Edison School District in Special Education for 4 years, waiting for the opportunity that brought her out to San Juan Island with Holman Land Surveying in the fall of 2022. With the company, Jill has been enjoying the fusion of surveying from the ground, from the sky with our Autel photogrammetry drone, and the sea with our HydroLite seafloor sonar.
When Jill is not working, you can find her hiking, mountain biking, kayaking, waterfowl hunting, fishing, or spending time with her family and friends – taking pictures all along the way!